How to
save money!
Get an outstanding return of investment.
Sonoboard offers extreme durability with UV light resistance, is non-degradable, water repelling, temperature resistant, non-swelling and non-shrinking. This results in an outstanding cost efficiency. In a side-by-side comparison with plywood it has been proven that Sonoboard last longer and therefore don't have to be replaced as often. Read about the specific test-case below.
Outstanding ROI
BUSINESS CASE. Sonoboard starts save you cost at your first reorder of formworks plywood.
Field-Proven
TESTED. Reused over 300 times and counting. See the Housing Case below.
The Housing Case
The Sonoboard has been used in Housing formwork systems for more than one and a half year in a parallel to plywood.
A reference case
In our reference case, Sonoboard has been used in parallel to plywood in a formwork system as a basis for cost comparison. The materials have been compared during one and a half year in typical housing formwork projects. In 18 months the average plywood system is used 175 times, during which its panels need to be replaced at least one time. If we assume that a normal formwork rental site has a total stock of 4,000 m2, it will generate a plywood replacement cost of over 100,000 €.
Sonoboard – reused 300 times and counting
During the same period, the replacement cost for Sonoboard is zero. Look at the graph to the right, after 350 times, the difference is huge and resulting in a total potential cost saving of over 350,000 € for the formwork rental site.
Sonoboard provides a quick Return On Investment (ROI) and improves the profitability of any plywood formworks system. The investment cost is quickly offset, already at the time of the first plywood replacement cycle.
Graph (See picture to the right)
The number of time a plywood can be used until it needs to be replaced is 70 times. The price for custom-fit wall system plywood is approximately a little more than 50% of a Sonoboard including the cost of changing the plywood panel, but not including the cost and risk of having plywood in stock getting affected by humidity.
Cost

[€/m²]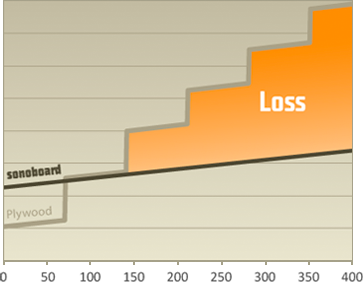 Times of Use

[#]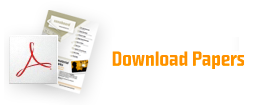 Read more about Sonoboard